Water skiing is a great sport and it is quite popular in many states of the US. There are several different types of water skis which are used for different purposes and riding styles. A sportsman might require a highly advanced ski whereas a beginner might look for some basic options. It all depends upon your qualification and requirements.
However, one of the most important things which must be kept in mind is the fact that you must get a water ski which works in the best possible way. This might be a difficult task but you can always get the right suggestion from us. Below are some of the best O'Brien Water Skis of 2019.
1. O'BRIEN G5 WATERSKI WITH FIN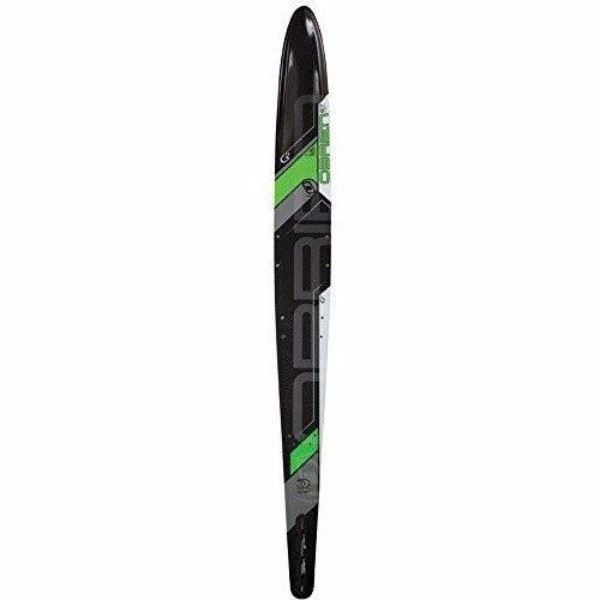 The O'Brien G5 water ski which stands at number one on our list since it comes with added rocker power which helps in giving you an extra pop off the wake. You will have smooth and forgiving turns in a nice and easy way without any problems. It is narrower at the ends and comparatively wide at the middle so that there is least drag.
It comes with a fin which is removable so you can adjust the water ski according to your own requirements as well. There is a balanced shape and design which helps in providing the users with a fair and great experience of water skiing.
Simple turning due to the innovative side cut
Full grip with the unique bottom design
Subtle fore body rails
Simple to make minor adjustments
Higher bevel capacity than most
Expensive
Fins and bindings not pre-fitted
2. O'BRIEN 2017 IMPULSE SLALOM WATERSKI
The 2017 O'Brien Impulse is one of the latest ones in its league and it is known for providing better edge to edge transitions to the users. Made for women, the design is an amazing one which adds to the responsiveness of the water ski.
Other than that, you can easily make sharp turns due to the heavy rocker that is a part of this water ski. However, it is only made for professionals since it reaches the bullet speeds in no time. X9 bindings are a part of the package which means that you will have a better support and grip while riding your ski.
Simple edge to edge transitions
Easy turning
Very fast
Highly responsive
Great for stunt skiing
Not recommended for beginners or inexperienced riders
3. O'BRIEN REACTOR COMBO WATERSKIS WITH 700 BINDINGS
The name says it so! The O'Brien Reactor water skis have been designed for the professional riders who are aiming to get to high speeds and perform some wild stunts with their water skis. The best thing is that they will be getting an amazing pair of bindings as well which are the 700-bindings that are going to provide a better grip and support while riding.
It comes with a thin profile as well as a longer length which is why we don't think that it is the task of beginners. The bindings are suitable for men with a foot size between 4.5 and 13. You will enjoy this amazing water ski.
Excellent performance
Plastic fins provide amazing tracking
Can perform stunts easily
Can handle rigorous skiing
Great speed
Too difficult for beginners or inexperienced riders
4. O'BRIEN 2016 IMPULSE SLALOM WATERSKI
This is the same water ski which has been mentioned above but the only difference is the fact that this is an older model. However, this has the same specifications and features as the latest one. With a heavy rocker profile, it adds up to the power of the ski and helps you in progressing even more by an added pop.
Other than that, the 2016 Impulse has been basically designed for women riders who want some challenges for themselves. It can help you in progressing to speeds which is a good thing about this water ski. Coming with x9 bindings, you will find it even better to ride this pair of skis.
Easy edge to edge transitions
Can handle high speeds
Responsive
Simple turning
Affordable
Not suited for inexperienced riders
5. O'BRIEN SIEGE SLALOM WATERSKI WITH AVID BINDING AND REAR TOE PLATE
Yet another great one by the company is the Siege Slalom ski which is known for its superfine quality and high performance. The exterior design and aesthetic screams of quality and brilliant engineering and creativity. The length of this ski is 68 inches which means it can be the one for intermediate and advanced level riders.
With a smooth and regular flex, the control of the user gets even better with smoother landings. It has been built to survive the rough usage which is why it is often known as the tough one. The quick lace system and integrated liner adds to the convenience of the water ski by making the mounting process a lot easier.
Strong and durable
Light in weight
Performance based ski
Comfortable
Accommodates a wide array of users
Higher range in price
Not suitable for inexperienced skiers
6. O'BRIEN VORTEX COMBO WATERSKIS
The Vortex combo water skis have been designed for the beginner level riders. Why? Well, it has a slightly wider body which makes it a better one for the beginners since they can easily maintain their balance and have a better control as well. Moreover, a wider body also helps in reducing the drag which means that this board is going to be a great one for brushing up your skills.
Coming in an attractive blue as well as red color, this ski will stay stable in deep waters. In addition, it will also be helpful in making sudden quick turns. The weighing capacity is somewhat near 140 pounds so make sure you take care about that.
Accommodates all types of riders
Max comfort
Lightweight
Durable and strong
Great visuals
Higher price range
Difficult for inexperienced riders to learn on
7. O'BRIEN CELEBRITY COMBO WATERSKIS WITH X-7 BINDINGS
The Celebrity is a great pair of water skis and includes the x-7 bindings which are going to be helpful in progressing in a confident manner in the open waters. It also comes with a pair of X7 bindings which come under one size that fits the most policy. The bindings are can be used by anyone having shoe size between 4.5 and 13 for men.
Plastic fins will help to generate some speed too. The rocker line is a great one as well since it is flatter than the regular ones which reduces the drag and adds to the amount of pop for the user.
Available in two colors
Unique construction makes it lightweight and durable
Lower drag with tunnel design
Max comfort with X-7 bindings which are adjustable
Great speed with plastic fins and narrow design
Not for smaller, lightweight riders
8. O'BRIEN JR. VORTEX KIDS COMBO WATERSKIS WITH X-7 BINDINGS
The Vortex combo skis which include the x-7 bindings is the one which has been designed for the kids. One main thing which the company focused on for this one is the design since the color schemes can be attractive to the kids. Being the right one for kids, it is in a wide body shape so that the kids can balance themselves easily.
This pair also comes with X7 bindings so that the kids can ride with both; a great pair of skis and a great pair of bindings.
Can accommodate adults and children
Rear toe piece outfitted on one ski
Improved control for kids with plastic fin
Unique parabolic shape
Great tracking for a children's ski
Trainer rope not included
9. OBRIEN PERFORMER COMBO 68 WATER SKIS W/X-8 BINDINGS
Either you've got an average size foot, or a big one don't worry when the lace-adjustable X-8 is offering secure bindings for all foot sizes. And, yes the OBRIEN Performer 68 waterski has this feature to get for comfortable skiing. Moreover, the padded rear toe plate provides comfortable skiing to the skiers.
This versatile waterski is an excellent choice for beginners and the advanced slalom skiing learners. It's even worth for the intermediate skiers, offering them the best opportunity for learning slalom skiing.
Comfortable padded rear toe plate
Great for advancing intermediates and beginners
Offers an added surface area for easier deep water starts
The fins made from poor quality plastic material
10. O'BRIEN 2017 WORLD TEAM SLALOM WATERSKI
The result of a fine art designing and craftsmanship is the 2017 World Team Slalom water ski which is a boom in its quality and design. It might not weigh much but it surely is a tough one for users. The board stretches to about 68 inches.
With a sport flex and a 45-degree bevel, you are going to have a great time in the waters. Other than that, with a heavy rocker and a narrow tunnel, you will be able to make turns, have a reduced drag and enjoy in several other ways easily.
Comfortable
Stable and well-balanced
Smooth riding experience
Great control and grip
Wide width
Not suitable for inexperienced riders
More expensive than others
CONCLUSION
When it comes to water skis, users look for options which are highly recommended because getting the best is not easily possible. The best water skis by O'Brien have been mentioned above in the review so if you are also looking for a ski by O'Brien, you need to get one from the list of the Best O'Brien Water Skis of 2019. We hope that you have a wonderful experience with the one which you choose.